"The Burner's HQ" is a two story building, with a car garage below and the an open-air diner Mutt Dogs above. It is owned by Jacob.
Architecture
The garage is covered in typical Motorcity graffiti, presumably made by Dutch. The restaurant Mutt Dogs is styled after 1950's drive-in restaurants, complete with neon signage. It's decorated with flames and other graffiti typical of Motorcity.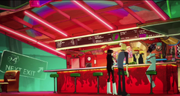 Trivia
Mutt Dogs serves normal food, but also many of Jacob's culinary "creations", including okra mayonnaise muffins and muscle mulch.
Gallery

Click here to view this page's gallery.
Ad blocker interference detected!
Wikia is a free-to-use site that makes money from advertising. We have a modified experience for viewers using ad blockers

Wikia is not accessible if you've made further modifications. Remove the custom ad blocker rule(s) and the page will load as expected.