The RC cars are toys owned by the Burners.
Look
There is a corresponding RC car for each of the Burner's actual cars, inlcuding Mutt, 9 Lives, Stronghorn, Whiptail, and Blonde Thunder.
History
The Burners were seen playing with these during the opening of "Blonde Thunder". Chuck managed to crash his, despite the toys running on a set track.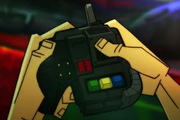 Ad blocker interference detected!
Wikia is a free-to-use site that makes money from advertising. We have a modified experience for viewers using ad blockers

Wikia is not accessible if you've made further modifications. Remove the custom ad blocker rule(s) and the page will load as expected.