Mutt is Mike Chilton's vehicle. Mutt is a green '70s muscle car (likely a 1972 Oldsmobile Cutlass Supreme) [1] with four turbine tri-pulsor engines, a slew of energy weapons, a grip of gadgets and a 21st century chopper hidden between the exhaust pipes.
Appearance
Mutt's color scheme is acid green with black stripes, with several chrome exhaust pipes on both sides.
Mutt's logo is a dog driving a car and holding black billiard ball in its paw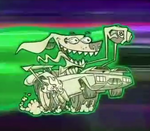 Equipment
Passenger seat - Usually occupied by Chuck, it has a customized seatbelt, is cushioned for extra safety, and can be ejected from Mutt when things get out of hand.
| Name               | Item | Location | Function               | Appear/s |
| --- | --- | --- | --- | --- |
| Four turbine  tri-pulsor engine | | Under the hood | | Battle for Motorcity |
| Bobblehead mutt | | Dashboard | Mascot, moral support | |
| Cthulu seatbelt | | The passenger seat | Extra secure safety belt for Chuck | |
| Pulse rifles(Mutt's primary weapons) | | On the hood | Fire green energy lazers rapidy | |
| 360° Gun (with Flaps) | | On top(folded behind) | | |
| Blastosaurus | | Mounted on the roof | Fires green energy orbs | Power Trip |
| Super Charger | | Under the hood | Turbo boost(s) | |
| Lightning Rods | | | | Ride the Lightning |
| Mag-wheels | | In the wheels | | Reunion |
| Basic Pod | | | | |
| Hyper Cannon | | At the rear | ??? | Vendetta |
Trivia
Mutt is completely totaled in numerous episodes (usually having only the bobblehead survive)
Mutt is referred to as if it was female. Mike often calls his car "girl".
Mutt's engine revving distinctly sounds like a dog growl.
The Duke of Detroit wants to add Mutt to his collection.

Chuck is forbidden to drive Mutt.
In the unaired pilot episode, Mutt also contained a motorcycle to be used as a last resort escape. In the seaaon finale it was used to escape the explosion as Mike set the rest of Mutt to self-destruct.
The Mutt logo is based on Ratfink, and is an homage to the the creations of the famous hot rod cartoonist and custom car painter "Big Daddy" Ed Roth. 
Gallery

Click here to view this page's gallery.
References
Ad blocker interference detected!
Wikia is a free-to-use site that makes money from advertising. We have a modified experience for viewers using ad blockers

Wikia is not accessible if you've made further modifications. Remove the custom ad blocker rule(s) and the page will load as expected.