H.O.U.N.D
Background information
First seen
"Power Trip"
Voice
Inspiration
Character information
Full name
Other names
Personality
Car
Appearance
Birthday
Occupation
Affiliations
KaneCo
Goal
Home
Detroit Deluxe
Relatives
Pets
Allies
Minions
Enemies
Likes
Dislikes
Powers and abilities
Weapons
Prehensile tounge
Fate
Quote
Release the H.O.U.N.Ds - Abraham Kane
[Source]
H.O.U.N.Ds are one of KaneCo's robot units.
Description
H.O.U.N.Ds are massive, quadruped robots with distinctly canine features. There are shown to be more intelligent and aggressive than normal KaneBots, being able to strategize and attack in groups like a pack of wolves.
History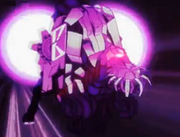 A pack of H.O.U.N.Ds attacked
the Burners
in
Power Trip
in an attempt to retrieve the experimental power core. One of the H.O.U.N.Ds received an energy boost after being caught in a minor explosion from a crack in the core.
Gallery

Click here to view this page's gallery.
Ad blocker interference detected!
Wikia is a free-to-use site that makes money from advertising. We have a modified experience for viewers using ad blockers

Wikia is not accessible if you've made further modifications. Remove the custom ad blocker rule(s) and the page will load as expected.